Shopping Cart
Your Cart is Empty
There was an error with PayPal
Click here to try again
Thank you for your business!
You should be receiving an order confirmation from Paypal shortly.
Exit Shopping Cart
Sharing a behind the scenes look to our world of sweets
Cont. From Part 1.
5. Digital Scale - I first bought a fixed dial scale to measure cake pans so they would have the same amount of batter and thus yield the same height once baked. This would reduce the amount of cake I have to shave off to level it. One day I dropped the scale and it broke, so I decided to buy a digital scale for more accuracy. Since then, I've found many uses for my digital scale beside weighing the cake batter. I measure the exact amount of fondant needed to cover different size tiers. I also perfected my cake recipes by measuring the weight of my dry ingredients instead of measuring volume.
4. Tylose Powder - gone are the days where I used to spend tons of cash on pre-made gum paste and then have to dye it the color I need it by adding food coloring that would only weaken the sample and make it too soft to work with specially for dark colors. Once I discovered tylose powder I add it to any color fondant and make my own gum paste for flowers, figurines, or any type of decoration that needs a little hold.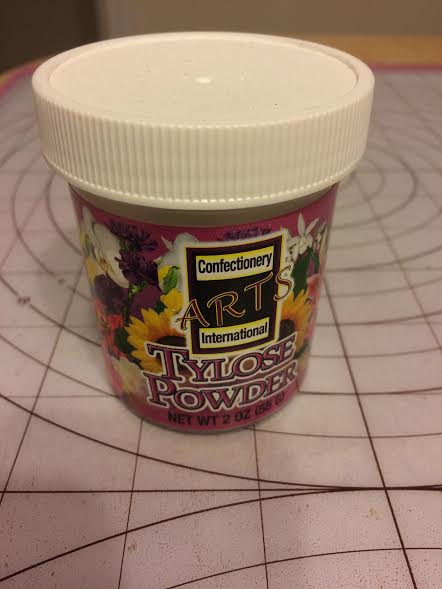 3. Cutting Place Mat - I use this to roll my small amounts of fondant for decorating. I can roll fondant as thin as 1/16th of an inch without using powdered sugar or vegetable shortening and the fondant doesn't stick. Thick fondant is not cool, it adds unnecessary weight to the cake and it's not aesthetically pleasing.
2. Bench Scraper - if your cake is not smooth and has sharp edges before the fondant goes over it, you will not achieve smooth, sharp finish. I think of fondant as a bed sheet. If your fitted sheet has wrinkles, when you place the flat sheet over it you'll still see the wavy, uneven indents below. The bench scraper allows me to smooth out the icing for a flat surface and give me a 90 degree angle as I scrape the excess frosting off, leaving a crisp finish ready for my fondant.
... and my Number 1 tool is:
1. Xacto Knife - this small, really sharp edge gives me precise cuts every time. My ultimate, can't live without, edible art making tool. I can't remember how I used to work without this tool before, what I do know is that I wouldn't trade this for anything else. It's my "third hand" I use it on every cake. To cut free-hand shapes, stripes, etc. 




When I first started making cakes I went shopping at Michaels and got the basics. The things that I thought every baker out there had to be able to make beautiful masterpieces. Measuring cups, silicone molds, offset spatula, fondant roller,  you name it. In the real world though, beautiful fondant cakes are waaaay more complicated than baking from a box mix and covering it with fondant.
I learned, by trial and error, that precision comes first before the fun decorating part starts. A good, solid, base foundation is key to yield wonderful results. So here are the top 10 tools that along the way have helped me tremendously improve and ultimately changed my cake game from "pretty cake" to "Amazing!"
Top 10 Tools That Changed My Caking Game
10. Candy Thermometer - When I first started I frosted my fondant cakes in American buttercream. I've never been a fan, in fact, I hate it! but, I had no choice, or so I thought. As I researched online I noticed that the big shot bakers, people in the business that I admire, used meringue buttercream. I looked up recipes everywhere and realized that meringue buttercream was easier to make than American buttercream, more cost effective and best of all, delicious! I had to switch. Then I realize my way of telling when sugar syrup was ready didn't cut it anymore, I needed an accurate reading of temperature. So I invested in a good candy thermometer and it changed my life. Well, maybe it didn't change it as more as it allowed me to be consistent in my meringue buttercream recipe. No more sugary American buttercream for me.
9. FMM Rose Cutter - I taught myself how to make sugar flowers using Wilton manuals. Roses, I find were the easiest flowers to make, but they still took time to make because of the drying process in between the bud and the petals. I found this cutter by happenstance scrolling down my IG timeline. It was a time laps tutorial from a cake supply shop. I was amazed by this 15 second video so much I watched it over and over. I wasted no time in ordering the FMM rose cutter and since then I went from making a rose in 1 hour to less than 5 minutes. In this business like any other, time is money and creating a rose garden in less than 1 hour is money in my pocket.
8. Pizza Cutter - I used to cut the excess fondant when covering tiers with an offset spatula or knife and would end up with a lot of small straight, uneven custs. Sometimes I would end up cutting too much off exposing the frosting. No bueno. A pizza cutter is an unusual tool to use for decorating cakes, but it's very handy to have. I watched a tutorial on Youtube where the lady used a pizza cutter to cut off the excess fondant. Now the pizza cutter has become an important part of my "toolbox" because it cuts in a continuous move as I rotate the turntable and gives me a clean finished look.
7. Rolkem Super Gold - I tried 3 different gold dusts and paints before I discovered Rolkem's Super Gold. I had seen many IGers use it but I was very skeptical because of my experience with previous products. I finally took the plunge and ordered my 50g container. This metallic highlighter dust is food approved in Europe, Canada, and Australia, here in the US it's considered non-toxic and for decorative use only. You can make liquid paint by mixing Super Gold with alcohol or lemon extract, or dry brush this dust directly on fondant, gumpaste, chocolate, candy melts, etc. and it leaves a brilliant metallic shine.
6. Cake Leveler - this tool was one of my first investments and from the very first time I used it I knew I couldn't live without it. No more slanted cakes, uneven tiers, and sketchy structures that are one wobble away from collapsing and becoming a cake fail. I cut the excess dome off and have perfectly leveled torts to be filled with delicious filling and stacked to perfection.
-List Continue on Next Post
I'm so happy to be able to share my journey through this blog with you. This is an exciting time and I'm very grateful for the support that everyone has shown Luna Sweets from our humble beginnings until now and hopefully continuing on in the future. 
With this blog I want to accomplish sharing knowledge, tips and tricks I wished I knew when I was starting, favorite recipes, and of course a behind the scenes look at what we do at the Luna Sweets kitchen. I have the most fun when I'm creating, decorating and designing and I really hope you can join me for the ride. This is gonna be fun!
-Patty
/